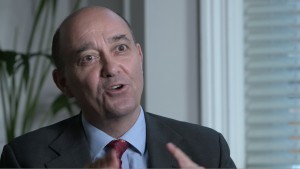 Ever wondered what happens to those courageous few who decide to take a stand and speak up about a company's bad practice? The title "whistle blower" usually comes with a flurry of media attention and public speculation,  and more often than not ends in the person in question being pushed firmly out of the company and even the industry they have 'blown the whistle' on, after which we don't really hear much about them again…
This is not the case for the HBOS whistle blower Paul Moore who has taken his experiences with the Bank and put them to good use in an exciting new venture. Paul Moore is currently Chairman of Assetz Capital Group and we caught up with him  whilst filming three programmes for Assetz in December to discuss his thoughts and advice for British Businesses in 2013. Paul told us;
"I've been involved in Financial Services and Banking since 1984, but most people know me best for being the HBOS whistle blower…  I stand for integrity, competence and doing the right thing… but believe it or not banks want nothing to do with me because I was a whistle blower. I have watched the way Banking hasn't worked, the way that complexity and profit at all costs, overcame prudence" 
Paul Joined Assetz as their non-executive Chairman because of the unique offering they can provide. When asked about the support they can give a company, Paul spoke up about how different Assetz is to your regular banking system, and importance of keeping SME's going for the UK economy;
 "I have been working night and day for the past few years trying to get the banks reformed properly… we haven't done it, we're miles away! The way that the banks were doing credit risk management, and the way they continue to do it now, particularly in relation to SME's, is that they use a computer to do it, so you get the "computer says no" problem" … with Assetz we're going to use human's in the process of assessing the business (because) when you can't get the public policy changed, guess what the solution is?? Do it a different way!
Assets Capital bring private lenders and borrowers together in a unique new way of enabling SME's to get the vital funding they need to drive business in a slow economy. Paul believes that SME's are the backbone of the UK economy, and their support is vital to keep the country away from another recession.
"I believe this (Assetz) new way of getting credit into the market place is absolutely vital. It's going to become a powerful force for Banking, but without a BANK in the middle of it!" 
To find out more about Paul Moore or Assetz Capital Group, and to watch their new web videos, go to the Assetz website, or view any of the links below.
Telegraph – Paul Moore HBOS Whistleblower